Discussion Starter
·
#1
·
Okay, this is my first time using watercolor pencils (or even colored pencils for that matter) and I have no idea what I'm doing so I'll take any advice I can get.
Here's my plan. I started out graphing my ref. photo and paper (Canson watercolor paper) and just outlined the cub very lightly with an h2 pencil. I did more detail with this pencil than I normally do because I wanted the gray of the pencil to show through...I think. Like I said, I've never done this before, lol! Then, I'm going to layer the colors from lightest to darkest. Now, supposedly you just go over areas with a wet brush and voila, it's becomes a painting. Well, I'm thinking of using a slightly damp q-tip because I don't want to lose many fur lines.
Anyway, here's the reference photo:
The next three are just drawing the base. It's pretty light, hope you can see it.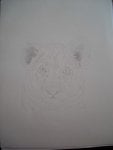 Here I've started the color. I think I'm going to color the whole cub before adding any water, though. If anyone has any other ideas as to where I should go from here feel free to jump in.