Member
Join Date: Sep 2010
Location: Middle of No Where!
Posts: 68
Misc art stuff
---
Wasn't sure where to put this and I figured here was better then no where! These are both some scratch board and a couple of digital based ones that I did for my friend.
I don't know how many of you do scratch board, but I have been messing around with it on and off for years.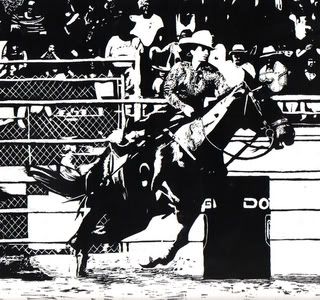 These are a couple of the more digital pieces.
This is the Stallion at Stud ad that I did for Smokes Navajo for the 2010 breeding season.
Senior Member
Join Date: Sep 2010
Posts: 464
These are great! I love the barrel racing scratch board. I've been trying to experiment with different techniques/mediums as I'm stuck in graphite.
That last digital is beautiful!
---
"Art, like morality, consists in drawing the line somewhere." - Gilbert K. Chesterton
Junior Member
Join Date: Sep 2010
Location: Alberta, Canada
Posts: 20
Those ads are great. The horse is gorgeous
I've no idea what scratchboard is though lol How is it done? The barrel horse is very good.
Wow I like your scratch boards although I have no idea what a scratch board is either, but I take it that you drew the pictures by hand so that much I understand I like it!!
Member
Join Date: Sep 2010
Location: Middle of No Where!
Posts: 68
Basically, on scratch board you have a layer of black ink over white (or any color really). You scratch off the black to reveal the color underneath. So in doing scratch board, you are color the highlights where as in graphite or pen you would be coloring the dark points.
Junior Member
Join Date: Dec 2010
Location: WNY
Posts: 6
That first scratch board is incredible. It really pops off the screen!
Wow I like the picture of the horses, I have been painting horses myself lately in water color, I still preffer Oil though but right now I am trying out other mediums, I am not too good with Oil pastel, I have not tried chalk pastel, but I definitely do charcoal, much to my surprise I can actually draw, and here all these years I always said that I couldn't draw to save myself, but!!! I still do not know how to post anything on this forum. I do not know anything about scratch boards, but that is really nice.