Senior Member
Join Date: May 2011
Location: Colorado
Posts: 469
Quote:
If it were settled out of court there may be a gag order on it. That is a common practice.
I sure hope not. I hope it disappeared because the judge said something along the lines of,...."You're not serious, are you?"
Sheesh, then again I guess that if you have enough lawsuits you wouldnt need to take pictures anymore.
---
Last edited by Jeff; 05-07-2015 at

04:20 PM

.
Senior Member
Join Date: May 2011
Location: Colorado
Posts: 469
Quote:
I think it's pretty cut and dry.
Would this image exists without the existence of the original photograph? No, not like this.
Did the artist profit from the work that he made from the existing photographs manipulation? I don't know that much about it. But if yes, then the photographer is entitled to at least some of those profits. If the photographer actually copyrighted his work with the copyright office then he gets way more weight in the courtroom.

But I do think that a photographer shooting this caliber of star should expect that artists may create derivative works.
Yes, but I dont think thats how the law interprets it. Transformative works are actually to be encouraged..IE you can patent an improvement on someone elses patent. Hell if there can be no similar copies or associative art ever, we would have no Rock and Roll, ...we would simply have Muddy Waters and Howlin Wolf.
The question of stealing profit is, however, I believe pertinent. BUT! -does the new work change the meaning or interpretation of the subject? Even more pertinent to the question of whether the new work is protected as 'fair use' IMO.
---
Last edited by Jeff; 05-07-2015 at

04:39 PM

.
Senior Member
Join Date: May 2011
Location: Colorado
Posts: 469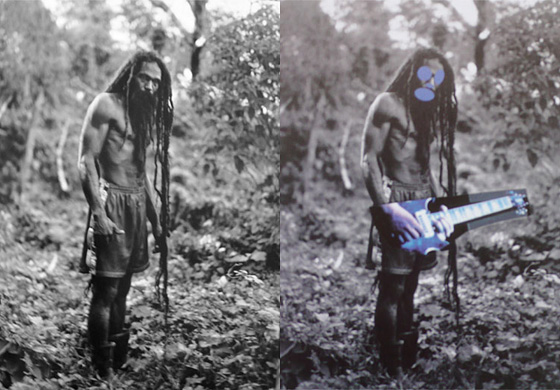 Here is a famous manipulation of an existing photograph that there was an interesting fight over.
The Southern District of New York (SDNY), in March 2011, held that Prince's works were infringing.
[2]
At that point, the Cariou v. Prince case received significant attention, because the SDNY ordered that Prince's unsold works, and Rizzoli's catalogs, be impounded and destroyed.
[1]
The SDNY in found that the works were not transformative, in part because Richard Prince did not claim to be "commenting upon" the original works.
[2]
Prince, whose works often sell in galleries for many thousands of dollars, appealed to the Second Circuit. The case was of high interest to the art world, which largely favored Prince's position,
[3]
and to the photographic community, which largely favored Cariou's position.
In April 2013, the Second Circuit reversed the SDNY's decision, finding that most of Prince's works were indeed "transformative" to a
"reasonable observer"
and therefore fair use.
[4]
In particular, the Court found that the lower court erred in requiring that the appropriating artist claim to be commenting on the original work, and found works to be transformative if they presented a new aesthetic.
[4]
The court found 25 of 30 works to be transformative fair use under its standard, and remanded the case to the lower court for reconsideration of 5 of the works under the Second Circuit's new standard
.
[4]
http://en.wikipedia.org/wiki/Cariou_v._Prince
Senior Member
Join Date: May 2011
Location: Colorado
Posts: 469
Quote:
It's different to a point but it is an obvious copy and I think that is where the problem lies with that particular piece.

Did you know that Andy Warhol did, indeed, get sued for his use of somebody elses photographs and from that point on he was basically forced to take up photography and use his own photographs to work from?

LOL Jeff. I had to laugh at your version.

I do understand the frustration actually on both sides. From a photographer side (albeit amateur) I understand what it takes to get those photos and how proud the photographers can be of them..just like any piece of art. I understand that if somebody takes one of their photographs and copies it in a drawing yet doesn't give them credit or even monetary compensation (if the artist sells the piece) then that is a hard pill to swallow. I see no issues with the copyrighting of photography as the photographer SHOULD have the right to say what is done with their photograph.

On the other hand..as an artist..I understand the frustration that goes along with not being able to draw really awesome photographs unless permission is given to do so. I think that is why so many artists turn to taking their own pictures in order to be able to draw what they want.

I think the major issues are when artists copy photographs without permission and then not only promote their works but also make big profits off them and the photographer is left with nothing. Yes I understand the work that went into it on the artist side but on the flip side..the original photographer spent a lot of time and money so that the artist could profit off them.

It's an ugly double edged sword.
Im only aware of one photographer who sued him - and that was over use of her flowers - he used it many times over and settled with her afterwards. Im not aware of any lawsuits resulting from his use of celebrities. He may have begun using his own photos, but he really didnt get 'dinged' for using photos of Elvis, Marilyn, etc. to my knowledge. Even Cambells Soup began to see the long term benefit of him using their can label.
Senior Member
Join Date: May 2011
Location: Colorado
Posts: 469
Paparazzi
/
p
ɑː
p
ə
ˈ
r
ɑː
t
s
i
/
,
/
p
æ
p
ə
ˈ
r
æ
t
s
i
/
(singular: (
m
)
paparazzo
Italian:
[papaˈrattso]
or (
f
)
paparazza
) are photographers who take pictures of
athletes
,
entertainers
,
politicians
, and other
celebrities
, usually while they are going about normal life routines.
http://en.wikipedia.org/wiki/Paparazzi
Serious question here. Are Papparazzi artists? ..Should they have complete ownership and control over the images of people they sneak up on?
If Jerky can sneak a photo of Beyonce and Jay-z's baby in a bathroom at the restaurant, he gets $500k. (seriously)
...and If I manipulate the photo and draw it, Jerky can sue me because in the eyes of his attorney, I stole from him. ..
Is it possible to steal something that was originally stolen?
Senior Member
Join Date: May 2011
Location: Colorado
Posts: 469
http://en.wikipedia.org/wiki/Roy_Lichtenstein
Could Roy do his thing today? ...Heres a guy who is considered one of the greats, who said
""The closer my work is to the original, the more threatening and critical the content. However, my work is entirely transformed in that my purpose and perception are entirely different. I think my paintings are critically transformed, but it would be difficult to prove it by any rational line of argument". He discussed experiencing this heavy criticism in an interview with April Bernard and Mimi Thompson in 1986. Suggesting that it was at times difficult to be criticized, Lichtenstein said, "I don't doubt when I'm actually painting, it's the criticism that makes you wonder, it does."
I would say we can breathe a sigh of relief that he didnt get sued - didnt worry about getting sued - just did his thing.
Senior Member
Join Date: May 2011
Location: Colorado
Posts: 469
Senior Member
Join Date: Jun 2013
Location: Directly above the center of the earth.
Posts: 280
With the onset of photo manipulation programs and being able to get any type of picture needed off the internet copy and imitation is the wave of the future. We all need to get used to it. I've seen some of my stuff pop up on goggle. Just posting in these forums, photo bucket and having our own web sights opens the door.
---
What would life be if we had no courage to attempt anything?-Vincent Van Gogh